Steelhead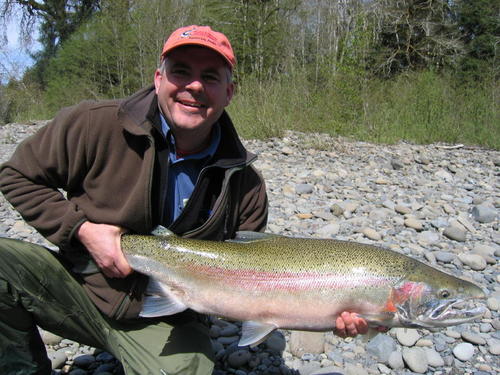 Steelhead!
On Washington's Olympic Peninsula, mid-November means that the long wait for the arrival of the winter steelhead fishing season is over. Beginning around the second week November, the first of the hatchery-origin steelhead return to the Forks, Washington area rivers.

The hatchery steelhead run peaks around mid-December and tapers off in early to mid-January. It is at this time that the first of the beloved native, or wild steelhead begin to show in good numbers in the region's rivers.
Most anglers choose to harvest their daily limit of hatchery steelhead with a current limit of three fish daily.

The wild steelhead are what make the Forks, Washington area rivers world-famous! Natives typical average around 10-12 pounds with 20 pound class fish making frequent showings. Every year, there are a few lucky anglers that catch steelhead in excess of thirty pounds! In fact, steelhead as large as 38 pounds have been taken in the tribal nets! The largest sport-caught fish we've seen was a released buck of over 45 inches in length that weighed approximately 34.5 pound
These are arguably the greatest of all freshwater gamefish and we are committed to do what we can to help preserve these runs of giant migratory rainbows. And if you do catch a trophy ... we ALWAYS keep a nice camera and tape measure on board for pictures and measurements for a reproduction mount.


We service both the conventional tackle and fly angler. If you have a preferred style of steelhead fishing, we will be happy to accommodate your preferences. . . or leave it up to us and we'll match our tactics with the water that we're fishing.
Summer Steelhead
May, June, July and early August signify the return of our summer run Steelhead. With the water lower and warmer these fish are usually more aggressive and acrobatic than their winter run relatives due to warmer water temperatures.
We do all our Summer Steelhead fishing from our 25' Alumaweld Supper vee Jet boat.
Starting in mid may on the Columbia River where we anchor close to the shore in the traveling path of the first summers run returns. These fish are full of fat and very strong fresh from the salt and aggressively eat anything in their way. This is a great fishery for young kids and family's that want a nice relaxing day on the water.
As we enter into June we move into the Cowlitz River. The summer Steelhead will be headed to the hatchery and as they move into the smaller river they become much more confined and easy your to target. In the Cowlitz our preferred technique is Bobber Dogging or Side Drifting. With these long limber rods the fights are nothing short of awesome. The limit is 3 fish per person and you can do all this while wearing sandals, shorts and short sleeve shirts.
This Great fishery will last into Mid August when we start running into early returning Chinook. One cast you are fighting a Steelhead and the next your fighting a big Chinook. It does not get any better then that.




We can accommodate 2-3 anglers in our drift boats and up to 4-6 anglers in our jet sleds, custom trips for parties of more than 6 anglers are welcome.
Steelhead fishing dates are very limited and it is recommended that you book your spots well in advance. Be sure to book your trip early as days fill up fast. You can either e-mail us here to: anglersguideservice@gmail.com or call us at the number listed below.