Guides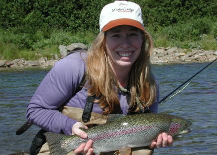 Traci Kratzer
Hi, my name is Traci, the proud wife and business partner of Robert Kratzer. Robert and I have the wonderful opportunity to own Angler's Guide Service.
As for me I was born and raised in Washington, and yes I am an avid outdoor women. Also I am a proud mother of two girls Kaitlyn (25), and Bailee (21), which have no problems keeping up with us in the outdoors living of fishing and hunting.
When calling for booking trips I will be happy to help you with any questions you may have.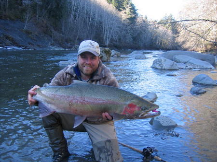 Robert Kratzer, "Bob"
Owner of Angler's Guide Service and Alaska Kingfishers.
Hi my name is Robert Kratzer, owner of Anglers Guide Service.
I am 55 years old, born and raised in the outdoors of Washington. I spent most of my life in Redmond, Washington moving to Forks, Washington when I was 22, where I now live with my wife Traci and my two girls Kaitlyn and Bailee.
My family did a lot of camping and fishing in both Eastern and Western Washington and that is where my dad taught me how to wade small streams and rivers fishing for rainbow and cutthroat trout. As I grew, my interest in salmon and Steelhead also grew. If I wasn't doing school work or wrestling I was reading about these bigger fish. As soon as I could drive I fished every possible salmon and steelhead stream that I could.
For the last 35 years I have operated Anglers Guide Service in the Fall, Winter, Spring and late summer. I stay very busy fishing for fall Chinook, silvers, Sturgeon and chasing trophy steelhead.
When I am not fishing I spend my time with my girls chasing Washington blacktail deer or Idaho Whitetail deer.

After being a guide for 35 years I have come to realize that I enjoy teaching and watching my clients catch these magnificent fish more then catching them myself. We are forever developing new techniques and trying to stay on the cutting edge of the salmon and steelhead fishing scene. I am State and coast guard licensed, fully insured and first aid and CPR trained.