About Us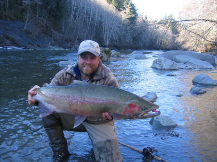 Anglers Guide Service
We are based out of Forks, Washington - "The Steelhead Capitol of the World" and we're here to offer you the fishing adventure of a lifetime.

Robert and Traci Kratzer have owned and operated Anglers Guide Service since 1987. They started with Drift boats trips on many of Western Washington's steelhead streams. They also ventured off to Bristol Bay Alaska and Mission Lodge where they worked for 20 years. Continuing to build their Washington Business by adding a jet boat and a raft to accommodate fisherman of all ages, sizes, and abilities. Their Alaska lifestyle grow even bigger as they built Alaska Kingfishers on the Nushagak River in Bristol Bay. They add their Daughters Kaitlyn and Bailee Kratzer who became part of the family business and where an integral part of Alaska Kingfishers. After 16 years of running Alaska Kingfishers the family decided it was time to move own to bigger adventures and sold the Alaska Business to concentrate on Anglers Guide Service and Washington.
Robert has become one of the premier guides in Washington and has been instrumental in developing techniques and Tackle for multiple different companies. When he is not fishing, he is more than likely working on Helping the fish runs or advocating for the fisherman.
Robert is involved multiple fishing orgiznations,
Northwest Olympic Peninsula Sportfishing Coalition- President
Robert also does 10 to 20 speaking engagements per year teaching and speaking about Techniques, tackle or Fishing related issues. Robert and Traci also are active in their hometown of Forks where they coach the Forks High School Fastpitch Softball Team. They also are avid Hunters and spend several weeks chasing Turkeys, Deer and Elk.