Salmon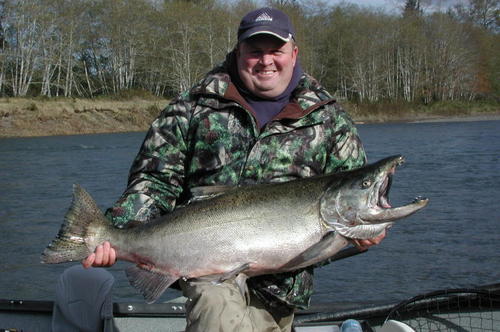 Salmon
Covering the most productive waters in Washington State, Anglers Guide Service provides the angler the very best Salmon fishing opportunities available.

Beginning in late March and running through June, Spring Chinook or "Springers" as they are more affectionately known, return to many of the rivers we guide on throughout the state - including but not limited to the Sol Duc, Columbia, Cowlitz and Lewis Rivers in Washington, and the Willamette and Multnomah Channel in Oregon. These hatchery raised Kings are one of the hardest fighting most sought after tablefare around, with fish ranging in weight from 12 to 30 pounds.



At the end of July, and right on through August, we will be fishing for Summer returns of Salmon, including Summer Kings that average slightly larger than their Spring cousins at 25 to 40 plus pounds, Sockeye Salmon that average 2 to 6 pounds, Summer Silvers that average 6 to 10 pounds, and on odd years Pink Salmon that average 4 to 8 pounds.
Summer Salmon fishing can be very enjoyable in Washington State with temperatures ranging between 60 to 85 degrees with little to no rain and very little fishing pressure, except on odd years when the Pink Salmon are running. Fishing for Pink or Sockeye Salmon can easily result in 100 plus fish days and tons of fun.

Mid August brings in the fall Chinook and Silvers of the Mighty Columbia and its tributary's the Cowlitz and Lewis Rivers. Starting at Buoy 10 and then running all the way up to Bonneville Dam these awesome fish swim this great River eating everything as they go. Kings in excess of 50 pounds and Silvers in excess of 20 pounds enter the river on there annual migration which can number in the hundreds of thousands. We start the season off in the main Columbia and then move into the tributaries as the season progresses and fish the Cowlitz and Lewis Rivers as they build in numbers

October typically signifies the end of Summer and the start of our Fall Salmon season on the Olympic Peninsula. Beginning their migration in Late September with numbers growing into the thousands by November, our Fall Chinook average 25 to 40 pounds with trophy fish in the 50 plus pound class being caught every season.
Fall also signifies the start of our Silver Salmon run, and these hard fighting acrobatic fish make for great tablefare averaging 10 to 12 pounds. During our Fall Silver Salmon Season that can last right on through the the begening of December, it is not at all uncommon to catch fish in the high teens to mid twenties on a daily basis.
November's rains and swelling rivers bring to us pound for pound one of the hardest fighting and aggressive of the salmon species, the Chum Salmon. These fish take to flies well and 15 to 20 fish days are not at all uncommon with fish averaging 10 to 15 pounds.
Salmon fishing dates are very limited and it is recommended that you book your spots well in advance. Be sure to Book your trip soon, either e-mail us here to:
anglersguideservice@gm
ail.c
om
or call us at the number listed below.