Steelhead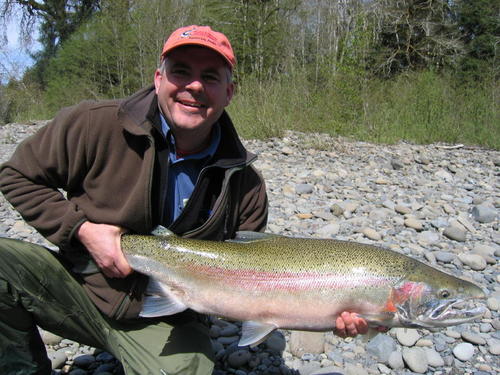 Steelhead!
On Washington's Olympic Peninsula, mid-November means that the long wait for the arrival of the winter steelhead fishing season is over. Beginning around the second week November, the first of the hatchery-origin steelhead return to the Forks, Washington area rivers.

The hatchery steelhead run peaks around mid-December and tapers off in early to mid-January. It is at this time that the first of the beloved native, or wild steelhead begin to show in good numbers in the region's rivers.
Most anglers choose to harvest their daily limit of hatchery steelhead with a current limit of three fish daily.

The wild steelhead are what make the Forks, Washington area rivers world-famous! Natives typical average around 10-12 pounds with 20 pound class fish making frequent showings. Every year, there are a few lucky anglers that catch steelhead in excess of thirty pounds! In fact, steelhead as large as 38 pounds have been taken in the tribal nets! The largest sport-caught fish we've seen was a released buck of over 45 inches in length that weighed approximately 34.5 pound
These are arguably the greatest of all freshwater gamefish and we are committed to do what we can to help preserve these runs of giant migratory rainbows.And if you do catch a trophy ... we ALWAYS keep a nice camera and tape measure on board for pictures and measurements for a reproduction mount ... the reproductions are less expensive and last longer than most skin mounts anyhow; and as catch-and-release has become more popular, the quality of available reproductions has risen to that of even the finest skin-mounts!

Late season steelhead anglers plying the waters of the Sol Duc River sometimes encounter high-speed silver submarines known as spring chinook. Arguably the hardest fighting of all Pacific salmon and certainly one of the best-eating.


We service both the conventional tackle and fly angler. If you have a preferred style of steelhead fishing, we will be happy to accommodate your preferences. . . or leave it up to us and we'll match our tactics with the water that we're fishing.
Hatchery Steelhead
Every year, during the middle of fall salmon season, an angler is surprised by the strange appearance of an unexpected salmonid at the end of the line ... although it looks similar to a Coho, or silver salmon, it turns out to be our first hatchery steelhead of the year.


Hatchery steelhead are distinguished from their wild counterparts by a clipped adipose fin. Typically running smaller than the wild fish, generally 5-8 pounds, with some fish into the low teens, they entertain anglers with their leaps and runs in the cold waters of the Olympic Peninsula Rivers. Most years, hatchery steelhead fishing is up and running by Thanksgiving Day and runs strong through early January.

The early run of steelhead can often provide big numbers of hook-ups with a pair of anglers sometimes getting a crack at hooking 25 to 30+ fish a day.

As the best returns of these anadromous trout return to the Bogachiel and Calawah Rivers, we usually concentrate our early season efforts on these streams. The hatchery run peaks in these rivers in mid-December and usually provides good fishing into early to mid-January.


The Hoh peaks in January for the hatchery fish, with fresh hatchery fish caught into March most years from its grey-tinted, clay-laden waters.

The Hoh hatchery steelhead run a little larger than those steelhead returning to the Bogachiel and Calawah, although the river's temperament for discoloring badly after a rain limits the number of days we can fish it in the early season.

Although best known for the large wild fish that return to its waters, the Sol Duc River receives a smaller plant of hatchery fish; and it too receives a return of hatchery fish in December into January.

While we endorse the catch & release of all of the wild steelhead we catch, many of the hatchery-origin steelhead we encounter face a different fate: a date with the barbeque!
Wild Steelhead
The large wild winter-run steelhead of the Northwest part of Washington are what gives Forks the moniker 'The Steelhead Fishing Capitol of the World'. Supporting the last stronghold of wild steelhead in the country, Olympic Peninsula rivers such as the Hoh, Bogachiel, Sol Duc, and Calawah are home to the largest strain of winter-run steelhead in the world!

The first showings of the wild fish in the Forks area rivers usually occur in mid-December, while the hatchery fish are still running in full force, as the season progresses in January, more and more wild fish appear, and by mid- to late January, the wild fish comprise the bulk of our catches.

Peak fishing season for the wild fish is generally mid-February through the end of March. The season runs through the end of April with good numbers of fish usually available through the season closure at the end of April on most of the area's streams.

The wild fish usually average 10-12 pounds, with regular catches of fish in the upper teens. Trophy-class steelhead of twenty-pounds or more are caught every few days by our clients in peak season ... with some of these fish possibly nearing 30 pounds or more!

We endorse the catch & release of all wild Steelhead, but any late-run hatchery fish you catch may be retained!

Make sure to bring your camera along ... but don't fret if you forget yours, we always have one on board to capture that steelhead of a lifetime you might catch during your guided trip.

This is an extremely popular time for repeat (and new) clients to book trips ... please plan early! This is also the most popular time for fly anglers to try their luck. Though you can book at last minute if we have room, most days are full several months in advance ... so make your plans early for the world's finest winter steelhead fishing!
Fly Fishing Winter Steelhead
The fabled rivers such as the Hoh, Bogachiel, Sol Duc, and Calawah offer winter steelhead fly anglers perhaps the best best chance of tying into a trophy-class (20 plus pounds) steelhead than other other area in the country.

Although fly anglers book trips throughout the winter season, most of our flyfishing customers prefer to book their trips during the latter half of the native steelhead run ... usually March and April. During this time, the waters of the streams are beginning to warm and subsequently increases the activity level of the steelhead present in the rivers. In addition, water levels in the spring are typically a lower than mid-winter levels providing better opportunities for anglers to get down to the fish with traditional fly-fishing tactics.Generally, most of our fishing is based upon a mix of swinging while wading and nymphing from the boat. However, this does vary from trip to trip ... we're happy to accommodate or utilize other less / more traditional methods based upon our customer's wishes. We'll be happy to provide a listing of necessary equipment / recommended flies for those choosing to bring their own equipment.


If you're new to the sport or just don't have the right equipment, just let us know and we'll be happy to provide you with a full complement of rods, reels, lines, as well as flies at no extra charge.
Summer Steelhead
June, July and early August signify the return of our summer run Steelhead. With the water lower and warmer these fish are usually more aggressive and acrobatic than their winter run relatives due to warmer water temperatures.
This a great time for the fly fisherman to try his hand at catching these great fish. With summer on us there less peolpe fishing so it is common not to see any other anglers on the water in your day of fishing.
These hatchery run steelhead also make for great tablefare, averaging 6-15 pounds, with the presence of a few Wild Summer steelhead in the mix which we endorse catch & release on.
We can accommodate 2-3 anglers in our drift boats and up to 4-6 anglers in our jet sleds, custom trips for parties of more than 6 anglers are welcome.
Steelhead fishing dates are very limited and it is recommended that you book your spots well in advance. Be sure to book your trip early as days fill up fast. You can either e-mail us here to:
ags@centurytel.net
or call us at the number listed below.